Prof. Vladimir Briller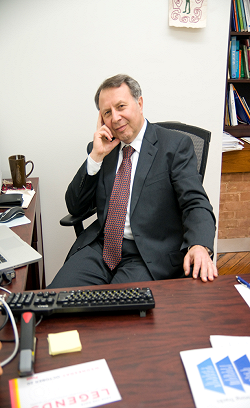 As an Executive Director of Strategic Planning and Institutional Research at Pratt Institute, Vladimir Briller is responsible for developing Pratt's long-term strategic plan; coordinating institute-wide strategic planning efforts, and improving Pratt's performance evaluation methods and measures.
 
Vladimir Briller received his doctorate from Columbia University, in New York.  His consulting work has included numerous US and international projects funded by the US government, OECD, the World Bank, Asian Development Bank and private foundations.  Among those projects – Information-Technology Opportunities for the Workforce, Education and Research funded by the New Jersey Commission on Higher Education; Study of Impact of Islam on Education in Central Asia funded by the US State Department; Needs Assessment Studies for the Early Childhood Development Grant funded by the World Bank in Kyrgyzstan and Tajikistan; Study of the Status of Graduate Education in Kazakhstan funded by the World Bank and many others. 
 
In 2006-2007 Vladimir Briller was appointed to the ETS Computer and Information Literacy Test National Advisory Committee.  In 2005, 2007 and 2011 Vladimir Briller was awarded Fulbright Specialist grants to advise universities in Central Asia, Vietnam and Azerbaijan on data based decision-making.  In 2008 he produced Tajikistan Country Case Study commissioned by the UNICEF for the EFA Global Monitoring Report.  In 2009, another study was commissioned and published by the UNICEF, Learning Achievement in the CEE/CIS Region: A Comparative Analysis Of The Pisa 2006 Results.
 
Vladimir Briller is a senior reviewer of the "Journal of Engineering Education", U.S.A.; member of the International Advisory Board of the journal "Вопросы Образования"; Russia, and a member of the Editorial Board of the journal "Higher Education and Society", Azerbaijan.