Professor Dr. Martin Paul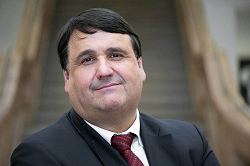 Professor Martin Paul is president of Maastricht University since May 2011. He is former vice president of the Executive Board and Dean of the Faculty of Health, Medicine and Life Sciences at Maastricht University Medical Center (MUMC+).
Martin Paul studied medicine at Heidelberg University in Germany and did his thesis work in pharmacology at the University of California San Diego (UCSD). Following his graduation from medical school in 1986 he was employed as a research fellow in cardiovascular medicine at Harvard University and Brigham & Women's hospital in Boston. After his return to Germany in 1990 he was appointed as lecturer in Pharmacology at Heidelberg University. In 1994 he moved as a research group leader to the Max-Delbrück Center for Molecular Medicine in Berlin-Buch and in 1995 he became Full Professor of Clinical Pharmacology at the Benjamin Franklin Medical Center of the Freie Universität (FU) Berlin and in 1997 Chairman of the Institute of Clinical Pharmacology and Toxicology at the FU, a position he held until 2008. From 1997 to 2003 he was Dean of the Medical Faculty of the FU and from 2004 to 2008 Dean and Vice President of the Executive Board of the Medical Faculty of the Charité Medical Center in Berlin, the newly founded joint medical school of the Freie Universität and Humboldt University in Berlin. Professor Paul has authored more than 200 research papers in the fields of molecular medicine, clinical and experimental pharmacology and cardiovascular disease. He has been active in several professional organizations, for example as president of German Society of Experimental and Clinical Pharmacology and Toxicology and as Chairman of the European Council for Cardiovascular Research.  Apart from his career as a scientist and educator, Professor Paul has worked actively to improve academic management on the European level. In this context he has acted as chair of DEAN, a European Network of deans and academic managers from all academic disciplines. In addition he has been serving on the board of ESMU, the European Center for Strategic Management of Universities.  Professor Paul is also playing a role as member of several boards in providing scientific advice or supervision of academic institutions in Europe.